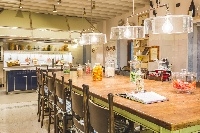 Date:
January 10, 2023 to December 22, 2023
Where:
The Gritti Palace Venice, Campo Santa Maria del Giglio, 2467, Venice, Italy, 30124
Event Type:
Food & Dining
Guests day begins with a tour of the Rialto Market, one of the oldest in Italy, where they learn more about local products, seasonality and how to choose and select them. Then, another indigenous experience awaits: the typical Venetian aperitivo with cicchetti at a traditional Bacaro. Afterwards, guests head back to the Gritti Epicurean School for the cooking lesson. Price includes VAT and service and may vary according to the number of participants.
Discover more here
----
Gli ospiti iniziano la giornata con una visita al Mercato di Rialto, uno dei più antichi in Italia, dove scoprono i segreti dei prodotti di stagione e del territorio, e come sceglierli al meglio. Proseguono poi con un'autentica esperienza veneziana: l'aperitivo in un bacaro, a base di cicchetti e ombre, in puro stile veneziano. L'esperienza si completa con la lezione di 3 ore presso la Gritti Epicurean School in compagnia dello Chef. Il prezzo è comprensivo di IVA e servizio e può variare in base al numero di partecipanti.
Scoprite di più